Cary Kitchen Remodel
We transformed this outdated kitchen by opening up the pantry, installing open shelves, installing a functional island with drawers, and creating dedicated space for small appliances.
layout & design

flooring and counter top selection

lighting, tile and wallpaper selection

cabinets & appliance selection
Preston luxury home Update
From dark leather furnishings to a brighter more cheerful color palette, we were able to enhance the cottage feel of the great room. And in the bedroom introduced light blues and yellows for an airy, calm atmosphere.
layout & design

paint selection, window treatments

accessories

upholstered pieces and case goods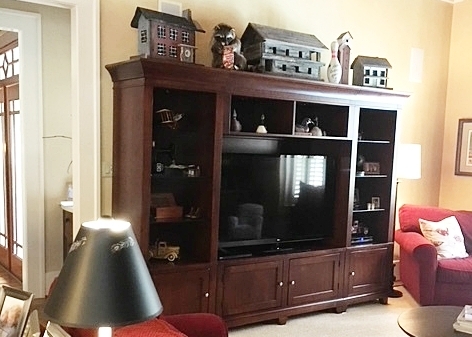 FAMILY ROOM UPDATE
Incorporating this family's personal sense of style into their home helped convert this family room into a warm and inviting haven with improved flow and functionality.
layout & design

furniture selection

accessorizing, window treatments
MACGREGOR HOme OFFICE Setup
Working from an almost blank canvas, we were able to custom create a beautiful, modern home office.
layout & design

window treatments

furniture selection & accessories
Bedroom DRAMA Makeover
Updating this bedroom with a few simple yet dramatic touches completely reinvigorated the space with a softer, more romantic energy.
layout & design

bedding and window treatments

accessorizing and furnishings
Family Room Makeover
Identifying new furniture options and layout, this room now better meets the needs of the family and still looks gorgeous for visitors.
layout & design

window treatments

accessorizing

furniture selection
WESSEX LAUNDRY ROOM RENOVATION
Who said laundry rooms should be boring!? Upgrading this room not only enhanced the look and feel but also allowed us to create some valuable counter space and more storage solutions.
layout & design

cabinet design

wallpaper selection

flooring, hardware and hardware selection
Get your home updated or renovated!